It's Time to Schedule Your School Physicals
If your child is starting Kindergarden or 7th grade this fall, now is the time to schedule their school physical. This will allow enough time for immunizations to be caught up if they are behind, and ensure your appointment time is availiable. The state of Nebraska requires physicals for all children entering Kindergarten and 7th Grade.


This may be the perfect time for your child to meet with their provider. Parents and children can discuss any concerns they have and help them navigate the steps for a healthy lifestyle. Discussions will evaluate physical and emotional health and create a baseline of your childs health. 

To schedule an appointment at our Gordon or Rushville Clinic location, call 308-282-1442.
Sports Physicals
Forms and consent 
MUST be completed by parent or guardians PRIOR to appointment.
 Please also read through the letter comparing annual vs. sports physicals to evaluate your potential cost savings and more comprehensive appointment. Schedule your sports physical appointment for $25. If you choose an annual physical it may be covered under insurance.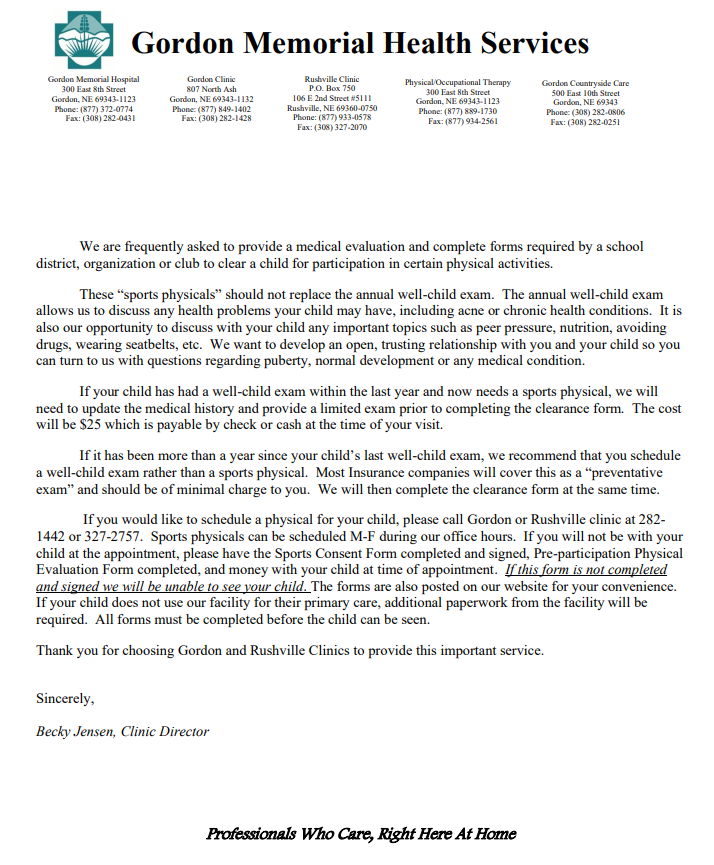 Click the link below to see all clinic forms including Sports Physicals, Immunizations Records and More!