Welcome to our Patient Portal
 If you have any questions or issues while logging in, please call Gordon Memorial at 308-282-0401. We would be happy to help you. Thank you!
Thank you for choosing Gordon Memorial Health Services! We hope you enjoyed your stay with us, and received exceptional care from our staff.

In compliance with the federal government's Meaningful Use Initiative, all hospitals are required to provide patients access to their patient record electronically. Having this electronic access through your personal, secured e-mail will allow you the ability to review your medical history at our facility. This access provides information, including but not limited to, Laboratory and Radiology results, medical history, medications taken, allergies, medical conditions, etc. You can also download your confidential medical record from our portal, to your own private computer for your records. That document can also be shared with another medical professional of your choosing.

If you have any questions or concerns regarding this new initiative you can call us at 308-282- 0401.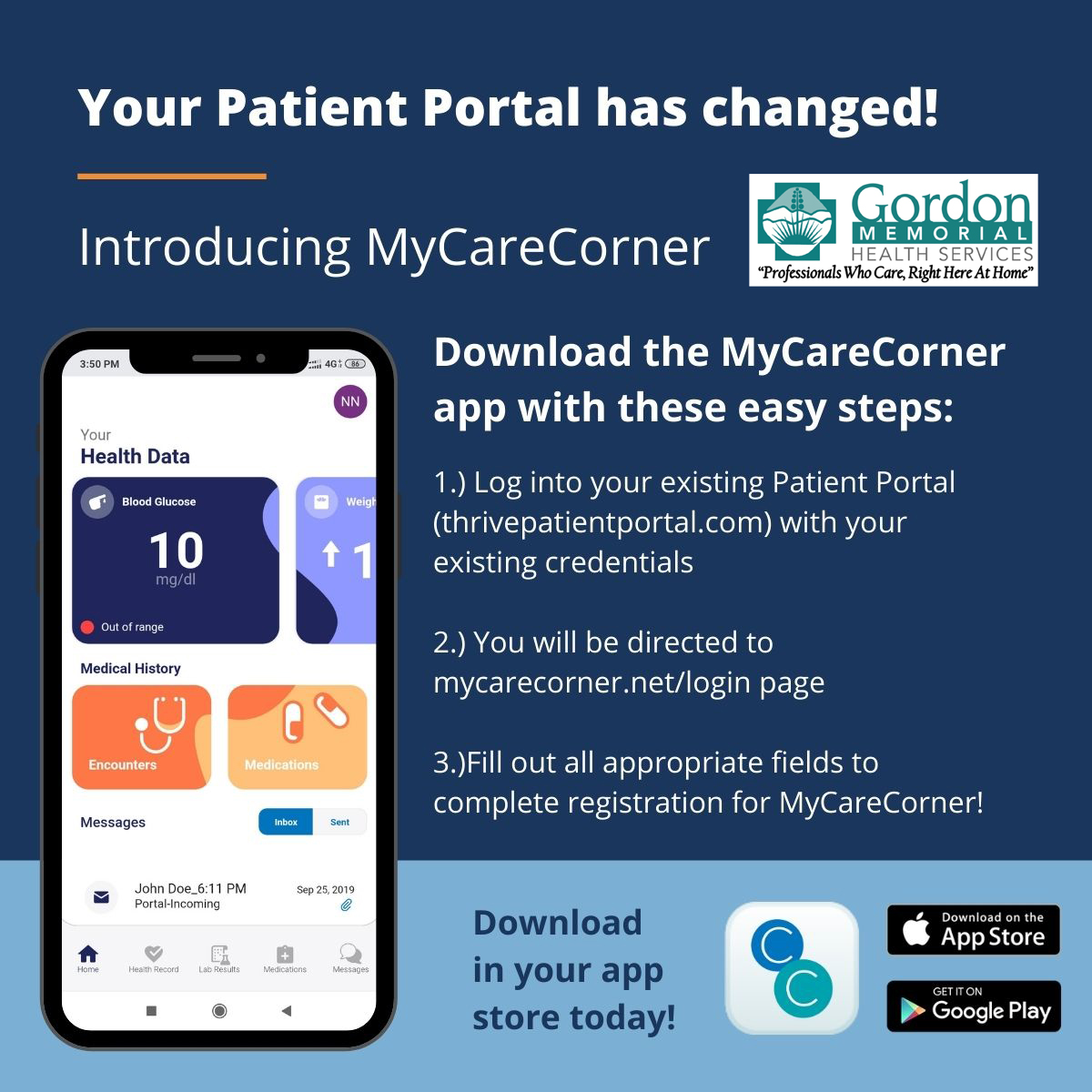 Please Note: If you or someone you know is haveing an issue signing in to the MyCareCorner app, try deleting the app from the device and redownloading it. Recent updates with the app my be causing a blank screen.

Frequently Asked Questions
What is the Patient Portal?
What is the Patient Portal?
Our Gordon Memorial Health Services Patient Portal is an online health management tool that includes a view of clinical data from your GMHS Electronic Medical Record. The data that our Patient Portal includes is: test results, medications, allergies, conditions, immunizations, health issues.
How do I access the Patient Portal?
How do I set up an account?
Do I need special equipment to use the Patient Portal?
What if my household shares one e-mail address?
Do my children get their own account/log in information?
Can my family/friends access the information found on my Portal?
Who should I contact if I have trouble logging in or accessing the GMHS Patient Portal?
Will I receive e-mails after each test/admission/appointment?
What if I have questions about my medical records?
How do I access my account, after I have set it up?